Use this simple tool to figure out your monthly mortgage payments.
Help for Jayman home buyers.
Take advantage of our full range of services for homebuyers, from finance to final move. Our financial experts are here to help you understand everything.
Know you're getting the Best Price First on every Jayman home.

There's no need to wait for a promotion or discount. We believe in giving the Best Price First. We use our buying power as one of the largest builders in Alberta to negotiate with our trades and suppliers for the best products and materials at the lowest price possible, passing the savings on to you. That way, we can offer our customers the best price the first time, and every time. If you find a cheaper home, that is because it includes lower quality features and standard inclusion.

Use our Down Payment Savings Plan if you aren't quite there yet.

Almost have the full down payment? If you've found the perfect home on the homesite you love, we can help you secure it. When you qualify for the Jayman Down Payment Savings Plan, you can put as little as 2.5% down with a signed purchase agreement and pay the rest of your down payment in scheduled installments.

Relax with our Secure Sell program for your existing house.

Avoid the inconvenience of moving twice or carrying two mortgages when you list your current home with Jayman Realty. We'll help you coordinate the possession date of your new Jayman home with the sale of your existing home.

Showhome Leaseback Program

Earn up to $3,135 per month when you purchase a Jayman showhome and lease it back to us. During the period that we're using the showhome, usually one to three years, receive 5% return on the purchase price.
What does the price include?
Our home prices always include the lot and the GST. That's important to remember when you're searching for a new home. Not all home builders show the cost of the land and taxes, so make sure you know what a price really includes.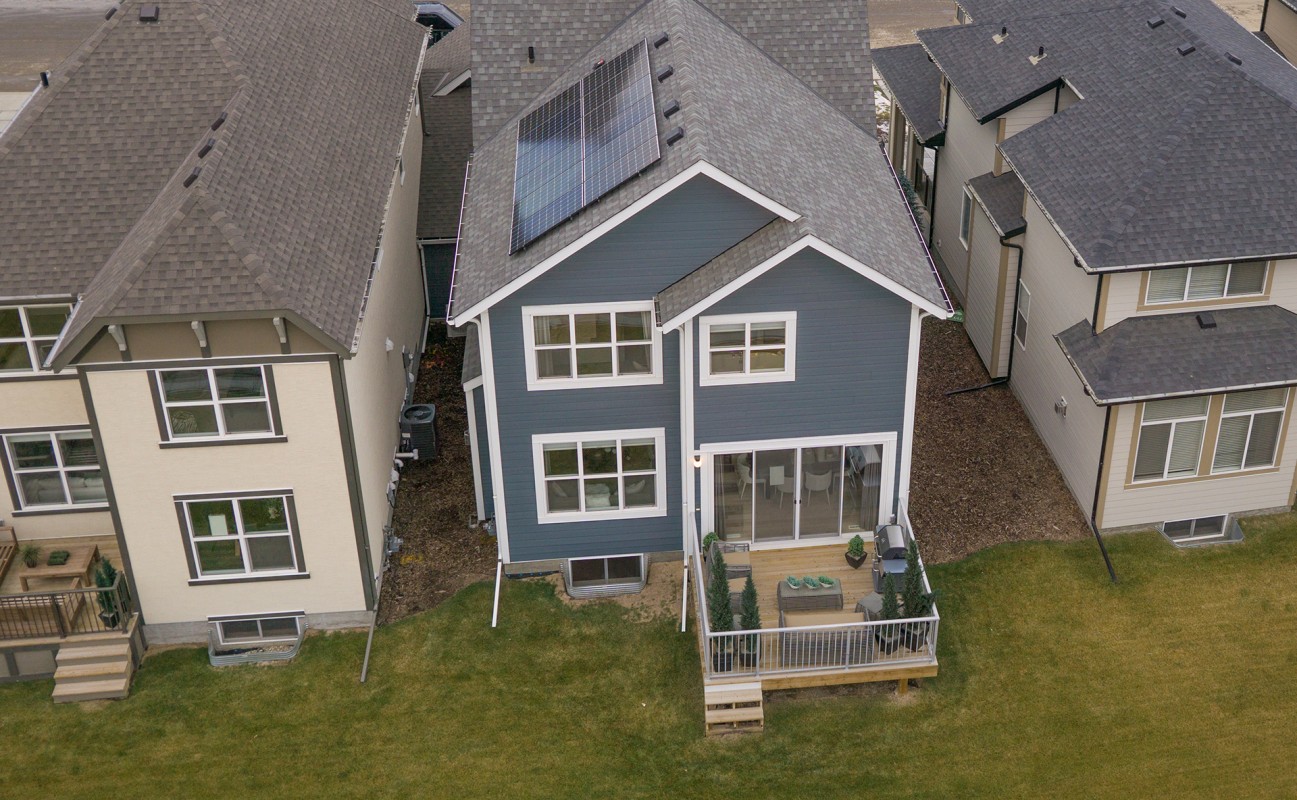 Standard on every Jayman home.
At no additional cost, enjoy $16,600 in energy-efficient premium features like solar power, a high-efficiency furnace, triple-pane windows and an electric car-charger outlet. This is called our Core Performance package, and it's standard in every new Jayman home.
1 Month

1 Year

10 Years

30 Years
What is "price per square foot?"
Sometimes shortened to PPSF or PSF, price per square foot is not as straightforward as it seems. Basically, it reflects overall trends in housing prices. Typically, smaller homes command a lower PPSF than larger homes because of economies of scale.
What else affects PPSF? Factors like location, lot size, home finishing and amenities and building materials make a big difference.
Do I pay extra for my Fit & Finish™ level?
When you build a new Jayman home, you choose a Fit & Finish™ specification package to suit your lifestyle. That includes just about every detail in your home, like plumbing, electrical, cabinets, countertops, ceiling finish, shelving, appliances and flooring.
We offer four distinct Fit & Finish™ packages for different budgets. After you finalize your package, along with any options, we calculate the final price of your home.